Odyssey of the Mind is an international creative problem-solving program that encourages students of all ages to learn and have fun by challenging them to think creatively and divergently. Each year, students are presented with a set of open-ended problems that require them to use their creativity, teamwork, and problem-solving skills to develop and present original solutions.
Odyssey of the Mind is more than just a competition. It is a program that teaches students important life skills such as creativity, teamwork, problem-solving, critical thinking, and public speaking. It also helps students to develop their self-confidence and to learn how to work hard and achieve their goals.
Odyssey of the Mind is a valuable program for students of all ages. It is a fun and challenging way for students to develop their creativity, teamwork, problem-solving, and critical thinking skills.
Contact Us
T: 1-802-404-1660
Vermont Creativity Quest, Inc.
PO Box 993
Williston, VT 05495
Vermont Odyssey of the Mind is offered by Vermont Creativity Quest, Incorporated, a non-profit, all-volunteer affiliate of Odyssey of the Mind (OM™).
Upcoming Events!
We are excited to offer our upcoming Team Skills Workshops designed to help teams discover the hidden treasure of Odyssey of the Mind skills!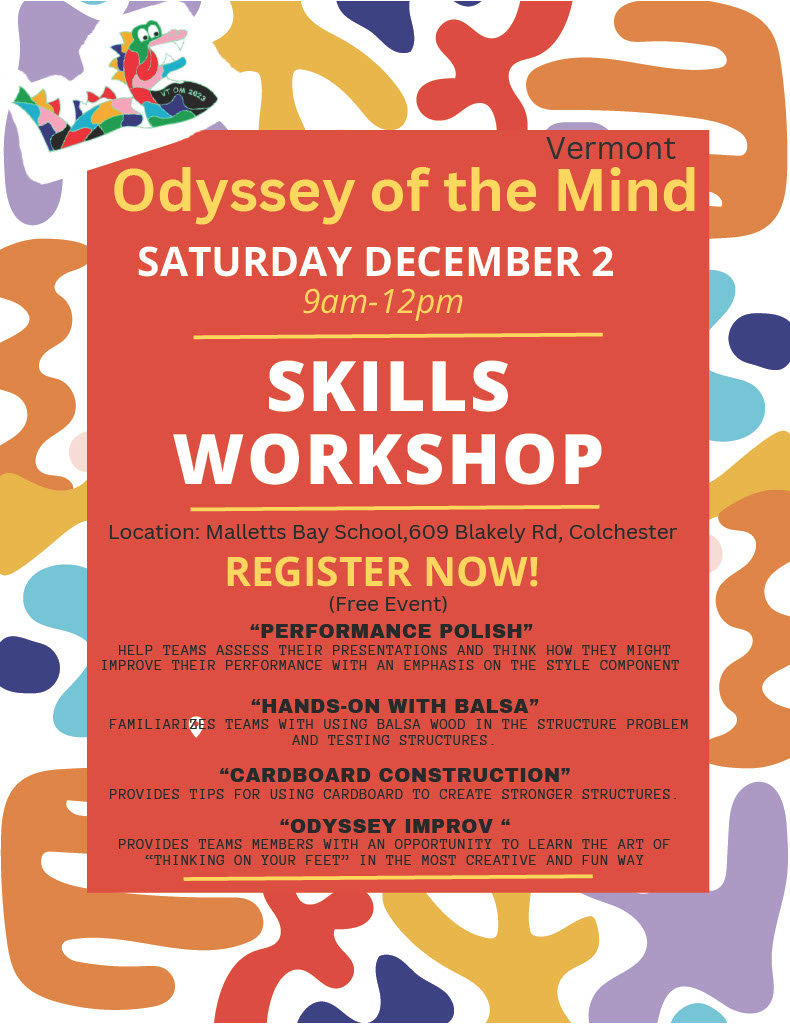 Please join us at our Team Skills Workshop from 9 am—12 pm on December 2nd, 2023 at Mallets Bay School, 609 Blakely Rd, Colchester.
These interactive and engaging workshops will be divided into two 80-minutes sessions, each covering a different aspect of essential Odyssey of the Mind skills. This two session format allows participants to discover and practice a variety of new skills in an engaging and fun way.
For each 80-minute sessions, teams choose from one of the following workshop options:
Performance Polish: helps teams understand the style component of the long-term problems, and how to apply creative thinking when it comes to developing their solution.
Hands-On with Balsa: familiarizes teams with using balsa wood in the Structure problem and introduces the apparatus used at competitions to test structures
Cardboard Construction: provide tips for using cardboard to create stronger structures. (Maximum 10 students)
Odyssey Improv: provides team members with an opportunity to learn the art of "thinking on your feet" in the most creative and fun way! (Maximum 14 students)
To enable teams to make the most of the opportunity, we encourage teams to split up into smaller groups, to maximize their learning and enhance their collective OM skills. Team members need to be accompanied by either the coach or another adult/parent, and each group needs to complete a registration form, so we can accommodate their workshop choices.
Please reach out if you would like to know more about the skills workshop event, or if you have any questions about our program: advtoom@gmail.com
We hope to see you there!